Make Every Penny and Click Count with our Analytics Platform
Bobble Digital use industry-leading data analytics and tracking tools that allow your business to make effective data led decisions.
These tools ensure that our clients are always getting the most accurate view of their marketing activity and show your true ROI. As an analytics agency we will help you spend your digital marketing budget better by measuring, tracking and improving your whole online customer journey.
Our Approach to Analytics
Optimise your ad budget and campaign spend
All your campaign data can be seen in one dashboard
Improve customer engagement
Mitigate against click fraud
Measurable digital channel and campaign results
Track, understand and improve your customer's online journey
For more information on how we can perform accurate data collection, improve reporting and provide you with customer insights to help you improve your marketing performance, call our specialist analytics team on 0113 511 7827.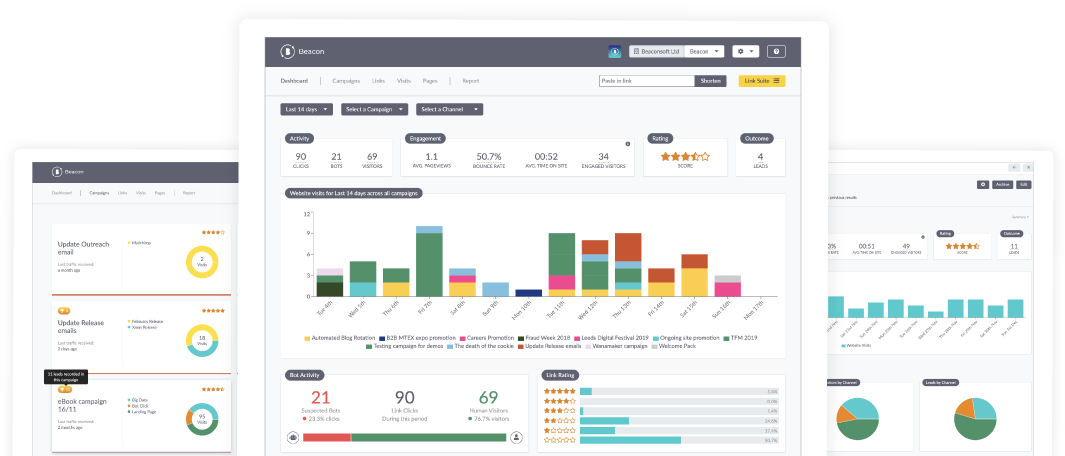 Reclaim Your Lost Media Spend
Budgets are often lost to bots and fraudulent activities and so as an analytics agency, we go that one step further in helping our clients by reclaiming any lost media spend.
We'll make every penny and click count by using our analytics platform to detect any fraudulent activity, maximising your budget for a better ROI.
We offer a no obligation free month trial that showcases the value of our Analytics dashboard.
Our team of analytics specialists will complete the first media claim for you in which you'll receive 100% of the rebate. Following the trial, we then charge a fixed monthly fee for the platform.
Attribution is a method of assigning conversions to particular media channels. It is used to help businesses to optimise the allocation of their marketing budget across channels or campaigns. Without the right tools, accurate attribution is almost impossible.
Incorrect attribution is a leading cause of wasted digital marketing budgets. It's vital for businesses to understand attribution and how it can be properly applied. Remember these four important points:
There isn't one perfect solution. Attribution is complex and peculiar to each advertiser. Your solution should take your individual needs into consideration (e.g. campaign goals, budget, partners).
'Last touch' undervalues upper funnel activity. Work with your agency partner to tailor an attribution solution that considers multiple touch points, e.g. a Split Funnel.
Attribution is worth the time and investment. Attribution provides detailed insights into different tactics and their effectiveness. It helps you to understand what works and what doesn't.
Attribution is the foundation for further measurement. Make sure you have an effective attribution solution in place before you start looking at viewability or brand safety.
Our rich reporting is prevalent across all of our digital channels. However, it is even more important for programmatic display to ensure that your clients are getting the best visibility across publishers. We use third party tracking tools such as DoubleClick, Response Tap and Appsflyer to ensure that we can attribute the correct value to each media channel
Our approach ensures we deliver measurable results for our clients. Get in touch for a bespoke Paid Social campaigns to engage with your target audience.
An Agile Digital
Marketing Agency
Bobble Digital is a Digital Marketing Agency in Leeds providing key media services from Strategy, PPC, SEO, Social Media, Video and Analytics. Using our own agile methodology, we develop digital marketing strategies and through carefully selected digital channels we ensure we deliver results. We aim to take our clients on a digital journey to support business growth.
Speak to a Digital Marketing expert today. To book a Free, no-strings consultation, leave your details with us here and one of the team will give you a call to see how we can help your business.